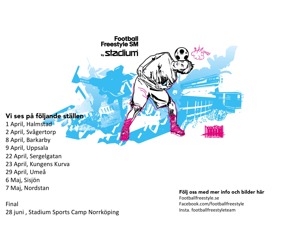 Football Freestyle SM is arranged by Football Freestyle Event together with Stadium 2017 !
Click on Football Freestyle SM up to the right for more info.
We organiced the last Swedish Championship 2008 when Mattias Linder did win !
Now we are going to 9 cities to find the best in Sweden !
The 28th of June the final is going to take place at Stadium Sports Camp in Norrköping.
The 16 best of the best Freestylers in Sweden is going to compete for the titel.
More info will come.