I år gör svenska mästerskapet i Football Freestyle äntligen comeback!
Nio kvaltävlingar kommer att ta plats runt om i landet, från dessa kval kommer Sveriges 16 bästa freestylers utses av en jury av högsta kvalitet.
Domarna kommer presenteras senare här på hemsidan.
Alla nedslag kommer vara mellan 12-16 på nedanstående orter.
Alla deltagare kommer få sin minut publicerad som bidrag på hemsidan under fliken Athletes 2017.
De 200 första deltagarna kommer få en Nike T-shirt med SM loggan och SWEFFC loggan att köra sitt bidrag med.

De utvalda kommer att battla mot varandra i den mäktiga finalen på Stadium sports camp i Norrköping, där Sveriges bästa freestyler kommer att koras.

Tävlingen är accepterad som ett nationellt mästerskap av Freestyle Football Federation (F3) vilket innebär att en bra placering i tävlingen kommer att leda till poäng i F3's världsranking. Vinnaren av tävlingen kommer att sätta sig i en ypperlig position för att plocka hem en av de 16 platserna i nästa års F3 World Tour!

Kvaltävlingar
Vi vill gärna att alla Sveriges freestylers samlas och deltar i kvaltävlingarna, oavsett nivå, ålder eller kön. Kvalen kommer så klart inte endast vara en tävling utan även fungera som riktigt stora meets. Alla är välkomna!
I kvaltävlingarna kommer de tävlande att få en minut på sig att imponera domarpanelen med en rutin. De tävlande kommer inte att få välja någon egen musik eller använda sig av någon annan rekvisita än en boll, detta för att efterlikna finalens battle system så bra som möjligt. Alla tävlandes kvalförsök kommer att filmas och bedömas i efterhand av domarpanelen. Domarna kommer att välja de 16 bästa utifrån alla kvalstopp vilket gör att alla har lika stor chans att gå vidare oavsett vilken stad ni väljer att kvala i.
I teorin kan alltså alla representanter i finalen ha kvalat in från exempelvis Uppsala.
För att efterlikna ett live kval så bra som möjligt kommer varje deltagare endast att få tävla en gång, detta på valfritt kvalstopp. Du som tävlande kommer alltså bara att få ett försök, precis som i finalen kommer det inte att finnas någon extra chans. Även fast ni bara kan kvala en gång så hoppas vi givetvis att ni vill komma till så många kval som möjligt eftersom de kommer att bli riktigt bra meets och vi vill tillsammans visa Sverige hur stort freestyle börjar bli!

Datum
1 april: Halmstad
2 april: Svågertorp
8 april: Barkarby
9 april: Uppsala
22 april: Sergelgatan
23 april: Kungens Kurva
29 april: Umeå Syd
6 maj: Sisjön
7 maj: Nordstan
28 juni: Final, Stadium sports camp, Norrköping

Regler
Hela tävlingen kommer att följa de regler som är satta av Freestyle Football Federation (F3). Dessa regler och de kriterier som domarpanelen kommer att döma efter finns att hitta på F3's hemsida (http://freestylefootball.org/rules/), där kan du även hitta annan information om federationen och hur till exempel världsrankingen fungerar.

Vi ses på kvalstoppen!

Follow us and the tour here and on
facebook.com/footballfreestyleteam
insta: footballfreestyleteam
Click on ATHLETES 2017 to see the films of all Freestylers signed in.
Watch the latest news here.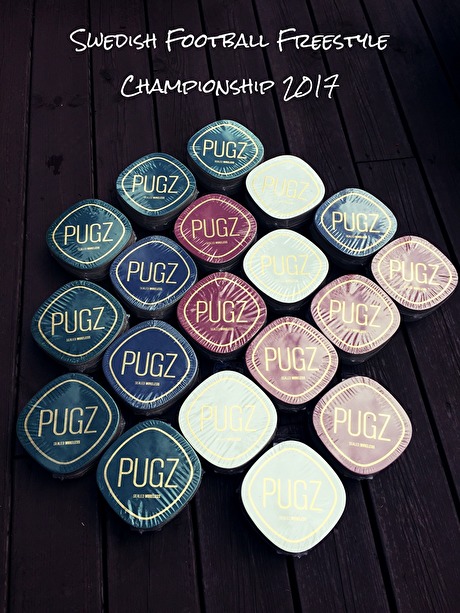 In the Swedish Football Freestyle Championship everyone is a winner !
All 16 finalists gets one of the best Bluetooth earphones on the market from Pugz. See you soon guys !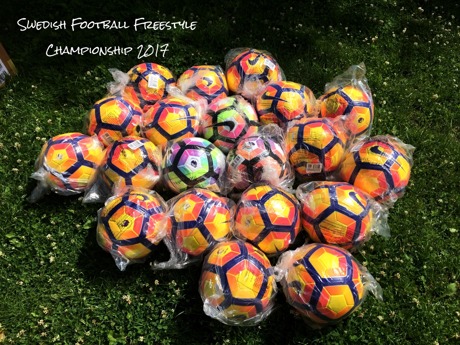 Swedish Football Freestyle Championship Final on Wednesday 28th.
The first prices to Top 16 is already set, a Nike Matchball to all 16 finalists.
Watch our friends Skill Twins Fantastic Panna and hear the Greetings to
Swedish Football Freestyle Championship 2017.
Last 4 to join the Top 16 in The Championship is:
Robin Stafwerfeldt, Jonas Wikström, Leonel Sabanovic, Simon Strandahl.
Congratulations all 16, See you in the Final at
Stadium Sports Camp 28th of June.
Leonel Sabanovic to join the finla is just 10 years old !!
We are also picking out 2 Freestylers to will join the final if someone gets injured or sick. Thoose 2 will be contacted tomorrow.
I would like to say that is has been fantastic to see all 55 Freestylers that came and showed us their skills. We hope that you all come to Norrköping to help all the Finalists to do their best.
Next guys to join the Top 16 is :
Jojje Lindgård, Olle Wallinder, Edvin Belin and Gustav Engvall.
4 new fantastic Freestylers to join the Final. Great guys !!
Next to join the Top 16 is this guys.
Hampus Jelf, Arvid Andersson, Calle Ahldén, André Nilsson
Now we are halfway into the presentation of th Top 16 to come to the big final at Stadium Sports Camp the 28th of June.
Well done guys !
Without ranking we are now putting out the Top 16 for the finals at Sports Camp in Norrköping 28th of June.
Here are the first 4 to be in the Final.
Emil Källdoff, Hannes Turovaara, Viktor Olofsson, Marcus Holmberg.
All worldclass Freestylers !!
Federico Massignani is Judge Nr. 3 in the Championship 2017.
Fed is a judge with alot of experience of judging high level Football Freestyle. He is also a member in Fast Foot Crew.
He comes from Pescara Italy.
We welcome Fed to Norrköping the 28th of June.
Mael Kevin Fortin is Judge Nr. 2 in the Championship 2017.
Kevin is one of the members in the famous R-Style Crew from Poland and also of the best judges in the world.
He has judged Superball and F3 Tour.
We are very proud to have Kevin judging. Welcome.
Tobias Becs is Judge Nr. 1 in the Championship 2017.
He is one of the best Freestyler in the world and we are proud to have him. Tobias was one of the judges in the Red Bull Final 2016.
He is now picking out the 16 best to the final and is coming to Norrköping the 28th of June to judge the final.
Last day of the Tour. And the best place to be ! Nordstan Gothenburg.
Over 70000 people passed us bye during the day and watched the guys from Mossens BK play football in or PannaCourt. And we saw a couple of the favorites to win the Swedish Championship freestyle. Next stop of the tour is the Final in Norrköping 28th of June, more info will come here...
Stop Nr. 8 of The Tour. We landed in Sisjön Gothenburg and played football with kids from Jitex and found more fantastic Freestylers.
This weekend we will take on Gotheburg with the Tour. This is the last chance to qualify to the Championship. Dont miss it !
Day 7 on Tour and we went north. Stadium Umeå put together some good Football Players from Gimonäs Umeå IF and 2 Freestylers in Mats and Hannes. I think we found at least 1 finalist to the Championship.
Day 6 of the Tour and we are still in Stockholm but this at Stadium Kungens Kurva. See this kids and enjoy !
This weekend we are going north. Umeå is the place and we will be there at Saturday between 12-16. Welcome.
The Day at Sergelgatan in Stockholm is the best day soo far. A lot of football players from Ingarö IF and over 25 Freestylers competing both in a Rookie Battle and also the Qualification rounds.
When qual. for Swedish Football Freestyle Championship was held at Sergelgatan we also put up a Rookie battle. The winner was Ville !
Over 25 Freestylers came to Sergelgatan for joing the championship. The judges on the battle was Källdoff, Jelf and Rooseboom.
This week a lot of material is coming out, stay tuned...
Teaser for Qualification Day 5 and 6 of Swedish Football Freestyle Championship 2017. And some nice football in our Pannacourt.
This weekend in Stockholm, Sergelgatan and Kungens Kurva.
Halfway into the Championship we made this video showing how talanted kids we have in Sweden right now. Next stop Stockholm !
Day 4 of the Tour we stopped in Uppsala. Some more Freestylers in the Championship and also thanks to Sirius boys 2005 for the support in the Panna Court. They really showed some skills.
Day 3 in Barkarby was perfect ! A lot of good young talented Freestylers and Football Players from Bele/Barkarby´s girls and boys.. Tomorrow there will be some new videos out on Athletes. Today Sunday we will be at Stadium Boländerna, join us.
This weekend we will be in Barkarby and Uppsala. Join us to play in our Pannacourt or sign up for the Swedish Football Freestyle Championship 2017
A short film from the day in Malmö, more to come...
A short film from the day in Halmstad, more to come...
First stop on the tour is Halmstad, Malmö. Join us !
Ok, mindre än 1 vecka kvar till Football Freestyle SM startar !
Här kommer första tävlingen. Se till att lägga upp ditt bästa trix på insta och lägg in @footballfreestyleteam så har du chansen att vinna denna officiella Matchboll från Nike.
Tävlingen håller på till nästa Söndag kl.16.00. Vinnaren läggs ut efter det.
Tagga även 3 kompisar som du tror vill med och tävla.
Oliver was the last one out to join the final from the Tour. The last one we picked out from a qualification at Gröna Lund just before the final.
There is only one Tom Karlsson ! In Borlänge he went through to the final as Nr. 14
A Classic Freestyler Mike Hammar came to Stockholm and qualified as Nr. 13 in the final.
In Malmö we found Gustav. He qualified as Nr.12 to the final
Johan Dahlbäck qualified from Partille Gothenburg. He became Nr. 11 to join the final.
After Umeå we went to Sundsvall and found Oskar to the final 16 in Stockholm. He joined as Nr.10
This year we are going to Umeå. In 2008 we found Hannes there. He joined as Nr. 9 in The Final.
Mattias Linder !! He became Nr. 8 to join the Final 2008 and he also won the Final !
And still, 2008 ! Watch his sits ! All cred to Linder.
To Örebro came 12 Freestylers and Farman was the best in that region. And became Nr. 7 in the Final.
Here comes the Greatest development ! Emil Källdoff came with his mother to Jönköping to take a place in the final 2008. He became nr. 6 to reach the final.
When we where in Växjö we found Jeff. Ha became Nr. 5 to the final in Stockholm.
In the middle of Kalmar City we found Adde. He became Nr.4 to reach the Final 2008.
Famous Philip Warren Gertsson came to Helsingborg to win the qualifikation round 3 in 2008.
This is Oskar. He won in Gothenburg in 2008 and Qualified as Nr. 2 to The Final.
This is Emil Olsson, winner in Täby Centrum !